PRO Exclusive Custom Run Delivery Service
Get your supplies delivered right to your jobsite, even if you didn't order through Biiibo.
No more running around to multiple stores or having to stop work because you have a materials order to pick up.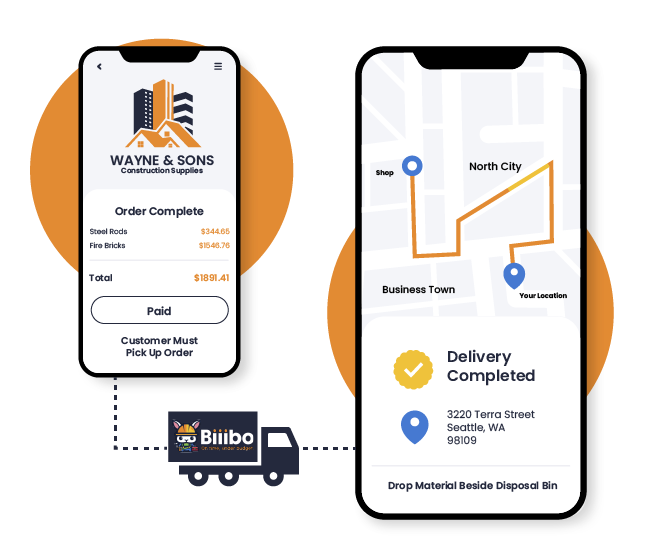 What To Expect
1. Order Your Materials From Whatever Supplier You Normally Deal With
Read through our Custom Run FAQs to clarify any questons you might have.
Once you place and pay for your order via your supplier, select "pick up" as your delivery option.
2. Request a Biiibo Custom Run Delivery
Fill out our request form or call us, and we'll set up a delivery for you.
This is where the form below comes in handy. We use it to quote the delivery and confirm all the details.
3. Accept Your Delivery
Our team will pick-up your order, and deliver it to the jobsite you requested, simple and fast.
Our team will notify you beforehand, so you know when to expect your Biiibo delivery team.
FAQs
Can Biiibo pay for my order when the items are being picked up? No, all material being picked up must be paid for in advance by the customer prior to Biiibo picking it up.
What is a custom run? We consider any material order that was not placed through Biiibo a custom run.
What do I need to provide for a custom run? You must me a PRO member to take advantage of this service. Then, we need the following to make sure we assign the right truck & delivery team:
Pick-up Address
Drop-off Address
Invoice Number or Pick Up Number
Item Description
Item Quantity
Item Weight
Are custom runs free with Biiibo PRO? No, the custom run delivery service is part of the suit of perks when you join Biiibo PRO. Custom runs are charged per run on an individual basis based on KMs traveled and the type of product delivered.
How much does a custom run cost? Custom runs are charged on a per kilometre basis. The final cost is very order specific, this is why we ask that you submit the above form so that we can quickly quote out your request.
What happens if my order isn't ready for pick-up when Biiibo arrives? If the supplier is not ready for pickup when Biiibo's team arrives, our drivers will wait up to a maximum of 15 minutes for the order to be prepared. If the waiting time exceeds 15 minutes, our drivers will leave and the delivery will be re-scheduled with an additional delivery charge.
When can I get my custom run delivery? All custom runs can be booked for same day deliveries. Same day deliveries will be delivered anytime between 9 AM to 9 PM. Don't worry, we'll let you know before the driver is set to arrive!