What to know when installing pressure-treated deck boards
June 13, 2021
Tips and tricks to help you install pressure-treated deck boards
Ready to install your pressure-treated deck boards? Here's what you need to know, plus some tips and tricks to ensure your end product will look professional, last long and won't cause damage to your home.
Deck board direction
If you are a fairly new DIYer, you may ask yourself whether you need to lay your deck boards in a specific direction and why.
Deck boards are attached to your joists. This means a deck that is connected to a home will have joists running perpendicular to the house and deck boards running parallel to the house, screwed into the joists.
If a deck is attached to your residence, it will need to be built off a ledger board that is bolted to the house. This will ensure your deck is structurally sound. Your joists will be connected to the ledger board once it's securely installed, spaced out 16 inches on centre.
Flashing will then need to be added to the ledger board to prevent water damage to your home.
Note: With a freestanding deck, you will have the option to lay your deck boards vertically or horizontally, depending on your preference.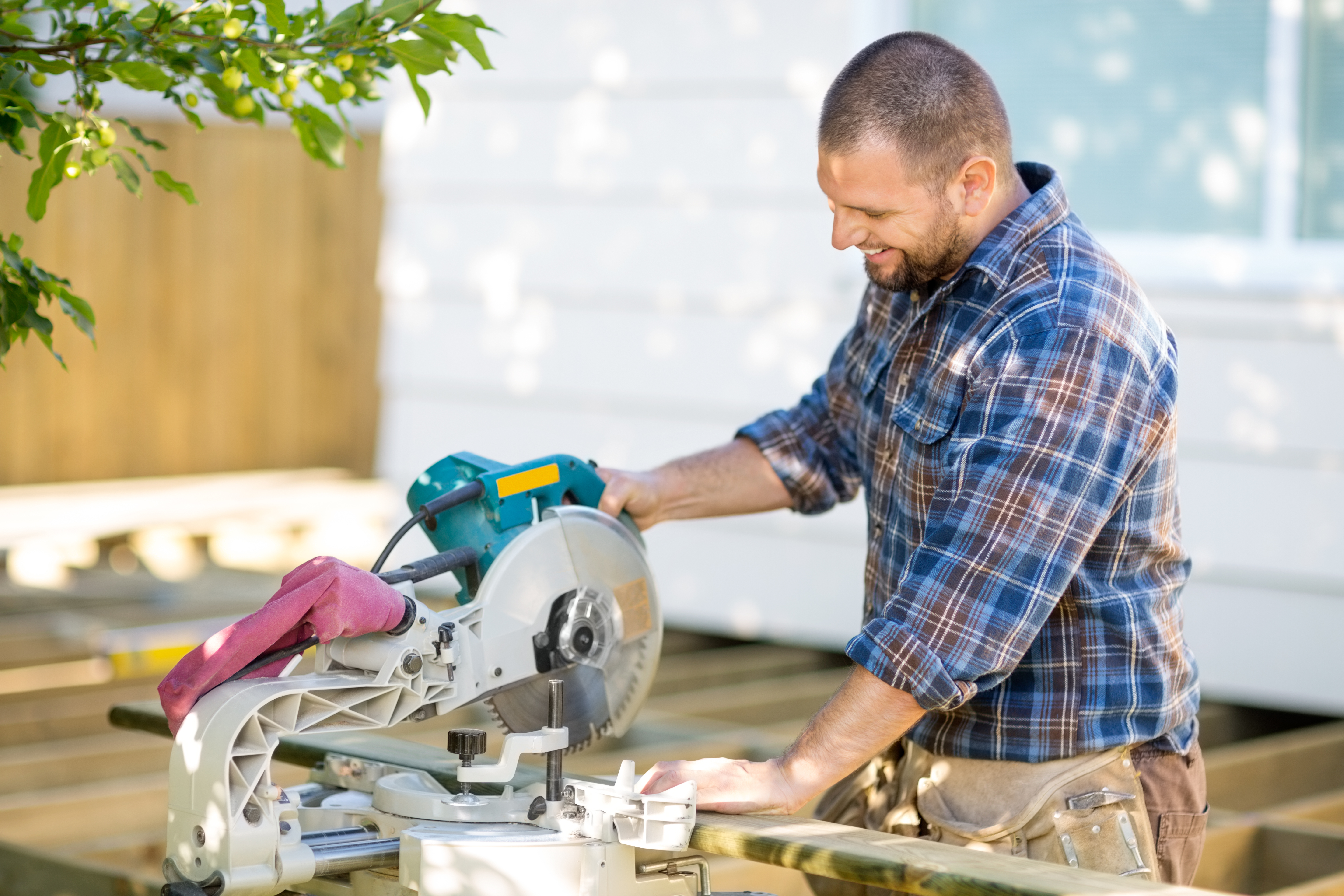 Selecting deck boards
When choosing pressure-treated deck boards, you are going to want to ensure you select the straightest boards possible, as this will make your life easier throughout the decking process.
If you find you are decking with a bowed board (or a few bowed boards for that matter), not to worry. You can use a pry bar to straighten out each board as you drill it down, to reduce any unnecessary spaces.
As well, when purchasing your deck boards, you will want to buy an additional 10 per cent. This will provide you with some wiggle room for waste.
Read more:
What you need to know about pressure-treated lumber
How to paint or stain pressure-treated lumber
6 creative ways to use up your scrap pressure-treated lumber
Laying and fastening the boards
When working with wood that is not pressure-treated, the recommended spacing between each deck board is 1/8 inch, however, with pressure-treated, the rules are a bit different. These boards are wet and will eventually dry and contract, so laying the boards side by side, without adding in that space is most appropriate.
Lay your deck boards flat side down and be sure to stagger your joints, screwing in your boards about one inch from the edge. Staggering your joints will ensure your deck looks better and is more stable, as screws will be more evenly distributed among the joists.
Tip: Pre-drill your board ends before screwing them into the joist. This will prevent the boards from splitting.
Once all the deck boards have been screwed down and staggered, you'll have to trim them to make a straight edge. Measure where you want to make the cut and then mark a chalk line before cutting.
Note: You'll want to cut the board closest to your home prior to screwing it in. If you don't do this, you'll find when trimming the boards at the end, the one attached to your home will not be able to be trimmed properly with your circular saw.
Diagonal decking
Whether your deck is attached to your home or freestanding, you can choose to do something more creative and install your deck boards in a diagonal pattern – if that's your style. Just note that this will require a couple of noteworthy adjustments: joists that are closer together (12 inches on centre) and more deck boards to account for waste (approximately 15 per cent extra).

To browse our selection of pressure-treated deck boards, or order on-demand delivery, visit Biiibo.com.
---